Artist Results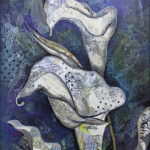 - Farmington Hills MI
"For me, one of the greatest experiences is looking at the piece I am working on and realizing I am looking at something no one in the world has ever seen before. It's this experience that motivates me, and that I yearn to share. My deepest creative desire is to bring to fruition a previously unseen vision of beauty and introspection through my art. I create art to change our idea of what can be seen in the world." – Shadia About Shadia Shadia Derbyshire, known professionally simply as Shadia, has been painting since grade school. She earned her Bachelors of Fine Art with Honors at Eastern Michigan University. Shadia began her decorative painting and mural company, Ambiance Design Studio in 2003, and has been an active art instructor to students of all ages since 2004. She currently focuses on her studio art, participates in live painting events locally and creates custom murals for her clients throughout Southeastern Michigan. Shadia's Work Shadia works primarily in acrylics and collage, but her passion for and creativity with color is the true theme that runs through all of her work. With her latest collage work, Shadia uses a selection of found papers, tissue papers, discarded sewing patterns, origami and craft papers. These papers are then
VIEW WORK >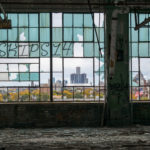 - Taylor MI
VIEW WORK >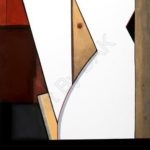 Painting is my passion. Acrylic is my medium. I am Dan Knighton and I want to thank you for showing an interest in my art. I was born on August 1, 1976 and reside in Warren, MI painting full time out of my studio. Creating and capturing images is what drives my work as an artist. Whether it's an emotion I feel, what's going on in the world, TV, magazines or personal situations, they all have an effect on my work. Through painting, I can capture my visions and produce images that speak to me and my clients. I love the freedom I have when I'm creating. I've worked with a lot of clients and have exceeded their expectations in every aspect. Every client is important to me whether it's creating abstract, modern, derivative art or portraits. 100% satisfaction is my goal. I'm inspired by the challenge each piece presents to me. I'm always pushing myself to outdo my last project. I love that aha moment when inspiration hits and the creative juices are flowing. That is truly when I'm at my happiest. If you have any questions or would like to talk about my art work, please do not hesitate to contact me. Thank you for the love and support. www.artbydak.com
VIEW WORK >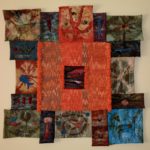 I believe a work of art bears the stamp of individuality and the national bearing of its creator when it springs from inner self. Being from India, a country with an extremely rich heritage of Art and Culture, I have always had a deep-rooted attachment to traditional art forms of India and owe some of my stylization to the captivating traditional patterns and the rich array of colors. Adapting to Western Styles and techniques, combining them with my lifelong fascination for ethnic arts around the world, have all been a melting pot for me to create a multicultural 'canvas'. In my everyday life, my escape, my retreat, is my creative power of Art. My work is indigenous to my inner self, and is a place of solitude, passion and contemplation for me. The subject matter of my work is drawn from my own life experiences, travels, thoughts and surroundings. My art is like a journey for me through the passage of time honored techniques, traditions and influences in an endeavor to produce art for everyone. The final offering is the culmination of a series of wordless conversations between me and my artwork. By now I have spent more years here than my own homeland. Images, people, places, corners, experiences, moments all show up in my subconscious mind more than ever. No matter how much I have adapted to my new life here and embraced everything with all my heart, that love, longing is embedded deep somewhere. And hence that tormenting question of "Belonging" comes to mind constantly. Where do I really belong? My ongoing search for the answer continues through my artwork. Boisali Biswas www.boisalibiswas.com
VIEW WORK >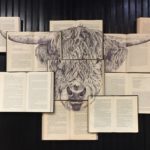 - Plymouth MI
VIEW WORK >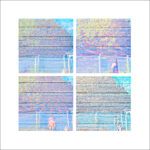 Sylvia Bandyke uses the collage format to integrate associated images into a cohesive unit that is even more compelling because of the embedded story. Having been a playwright and technical writer, she is used to delivering content with a message. Now as a visual communicator, Bandyke continues to provide meaning via the structure of the collage format, wherein the four photos confirm, augment or even contradict each other if warranted. Bandyke enjoys offering the richness that the multiplicity of images provides along with the impact gained through thoughtful positioning of them. Each collage is 14" x 14" framed. Slyvia Bandyke has shown her work in MI ArtPrize, Grand Rapids 2014-2018, Artists' Society of Dearborn 2018-2021 (won 1st place in photography '19), Dearborn Community Arts Council (won honorable mention '20), Mount Clemens Anton Art Center (won Director's Adult Pick '20), Muskegon Museum of Art, Detroit Scarab Club, Midland Center for the Arts, Northville Art House, Lawrence Street Gallery, Grosse Pointe Artists Association & Detroit Artists Market. In 2019-2021 Bandyke displayed in national juried exhibits at galleries in 21 states. Continue to be juried into online international shows of Light Space & Time, Fusion Art, Art Room & Grey Cube Galleries.
VIEW WORK >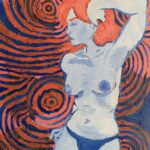 Ken Jackson was born and raised in Detroit, MI. His first formal education as an artist came through Mr. Amen's class at Duffield Elementary, then late Ms. Stroud at Martin Luther King jr. high school. Later in life, he learned art from legendary graffiti artist, CASH, of New York's Spanish Bomb Squad. Ken later went on to start his own comic book series "City Hare", "The Planet" and a slew of others while taking a semester at College for Creative Studies. Ken would then travel around the world, finding guidance from veterans such as Ken Laager, Karl Gnass and Rebecca Gray.
VIEW WORK >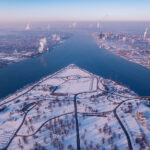 - Detroit MI
Ryan Southen has been a Detroit resident for over a decade and he draws his inspiration from the city he calls home. You won't find abandonments in Ryan's gallery, instead Ryan chooses to focus on the rich history and architectural legacy of Detroit by capturing common sights in a thoughtful and composed way. While Detroit's past and decline is a fascinating subject, Ryan is far more interested in documenting the beauty that exists in Detroit today.
VIEW WORK >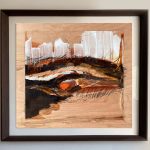 My most recent work are paintings on wood panels. I use wood in order to create topography, additional detail and to alleviate stress. I suffer a bit from anxiety and the worries of old age. Having a surface that can handle a bit of force and energy does allow one to express the tension and nerves in a way canvass cant provide. My pieces range in scale from 16x20in to 2x4ft. I use stains, paints, mineral spirits, pencils, sanders, grinders and utility knives to cut, grind and sand levels and layers of color and scaring into something that makes me smile. I'm just now starting to socialize my work. I think its good to get it out and start to share with those who might be interested.
VIEW WORK >