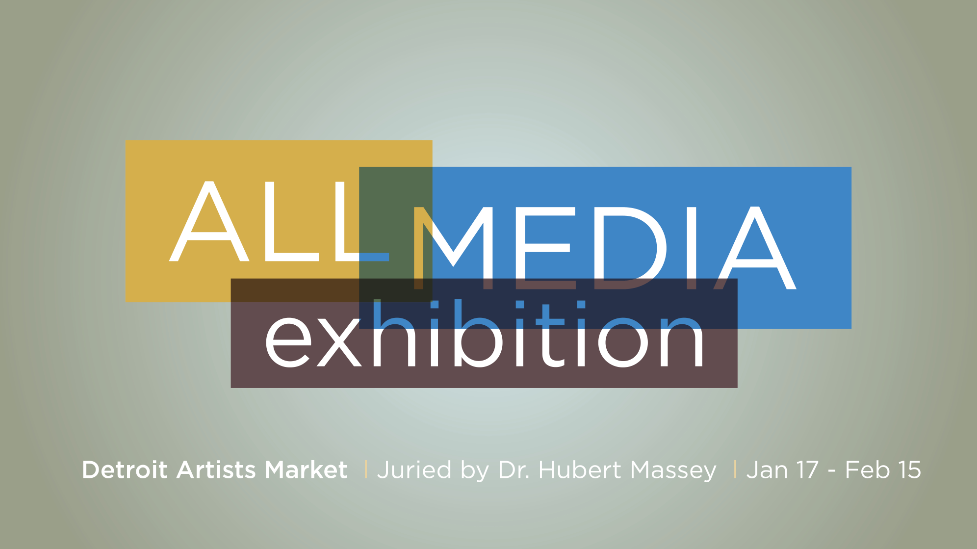 Forty-six artists celebrate Detroit culture and heritage through works in mixed media, colorful painting, and sculpture. This exhibition was juried by Dr. Hubert Massey, whose body of work is like a tapestry of social rhythm and expanding color.
Dr. Hubert Massey is an award-winning Kresge Fine Arts Fellow whose distinctive fresco murals grace the halls of such visible Michigan destinations as the Flint Institute of the Arts, Detroit Athletic Club, and his alma mater, Grand Valley State University, where he earned an honorary doctorate of fine arts in 2012. In 2014 the DRCFA commissioned Hubert to create the first large-scale mural for TCF Center since 1987. A fresco painting, the mural features images and tells stories of Detroit community pride. Hubert studied at the University of London's Slade Institute of Fine Arts and later learned the centuries-old fresco technique from former assistants of legendary artist Diego Rivera. Today Hubert is the only known African American commissioned fresco artist in America.
Participating Artists:
Robert Beras, Boisali Biswas, Harold J. Braggs III, Jim Bundshuh, Kristen Canda, Saylem Celeste, Leslie Cieplechowicz, Barbara Clay, Ronald Clegg, Krista Conyers, Yoriko Cronin, Donald Cronkhite, Darin Darby, Valarie Davis, Rita Dickerson, Shawn Renee Forman, BJ Foster, Took Gallagher, Linden Godlove, Bruce Giffin, Mint Artists Guild, Katherine Hanley, May Hiddleston, Joyce Jeffrey, Dorothy Jett-Carter, Bella Kubo, Matt Lewis, Elise Martin, Michael McNeil, Steve Miller, Carole Morisseau, Emilia Nawrocki, Joan Painter-Jones, Catherine Peet, Laura Reed, Amelia Rennell, Renee Rials, Richard Riley, Christine Ritchie, Yvette Rock, Catherine Royer, Fran Seikaly, Lawrence Sekulich, Tricia Soderberg, Bryant Tillman, and Ruth Warnock.
Featured Artist:
Jackie Rybinski, paintings