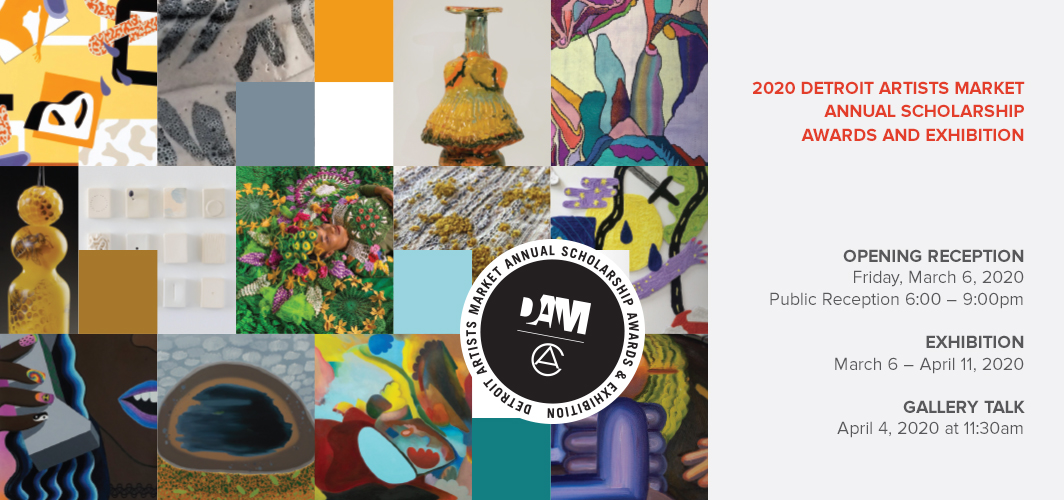 This year's scholarship and exhibition program celebrates the diversity and achievements of the Cranbrook Academy of Art (CAA). Also featured in this exhibition are works from outstanding CAA alumni and faculty. Three student finalists will receive the John F. Korachis scholarships.
SCHOLARSHIP FINALISTS
Sam Dienst
Kaylie Kaitschuck
Violet Luczak
Sylvain Malfroy-Camine
Isabelle McCormick
Lucille Olechowski
Ha Joung Park
Rebecca Smith
Natalie Wadlington
Melissa Webb
Kevin Weeder
Elysia Vandenbussche
Jacob Vinson
FEATURED ARTIST
Lucia Calderon Arrieta
OPENING RECEPTION
Friday, March 6, 2020
Public Reception: 6:00 – 9:00 p.m.
THE DETROIT ARTISTS MARKET WISHES TO EXPRESS ITS GRATITUDE TO OUR SUPPORTING SPONSORS AND SCHOLARSHIP DONORS
LAW OFFICES OF JOHN F. KORACHIS & ASSOCIATES
RAYMOND JAMES
CONSTANTINE GEORGE PAPPAS, AIA ARCHITECTURAL/PLANNING
NATIONAL CONEY ISLAND
RONIN SUSHI ROYAL OAK
KRESGE FOUNDATION
HUDSON WEBBER FOUNDATION
ERB FAMILY FOUNDATION
ART WORKS MICHIGAN
MICHIGAN COUNCIL FOR ARTS AND CULTURAL AFFAIRS
KOUZINA ROYAL OAK