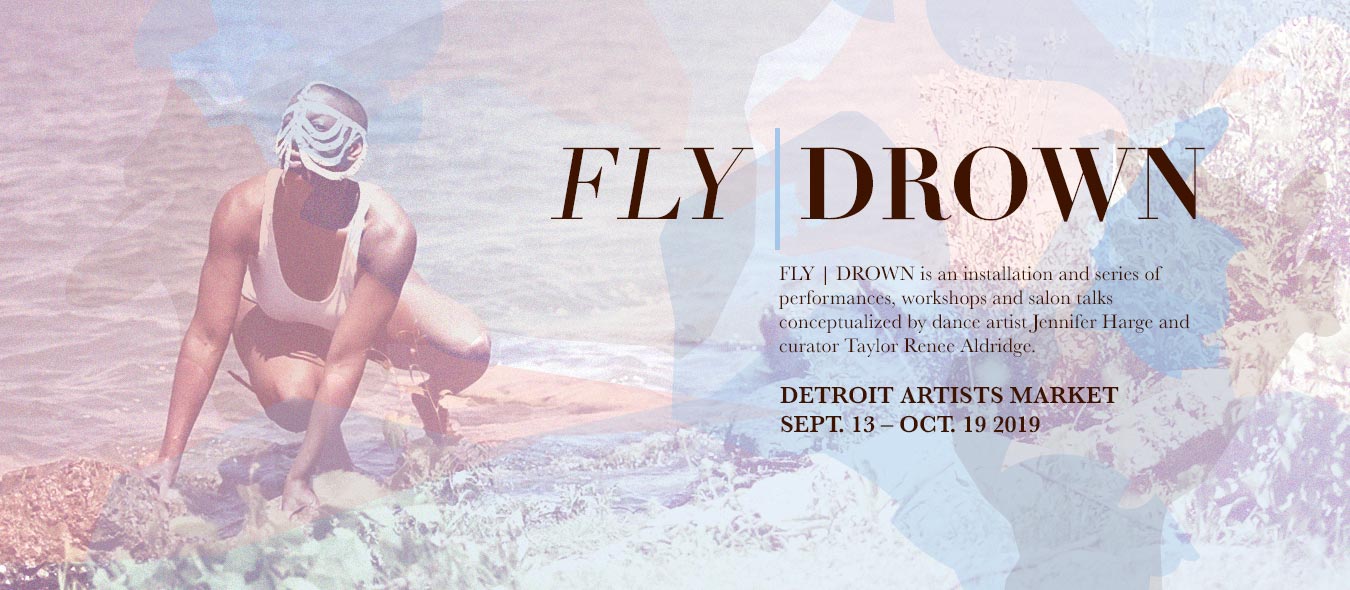 Click here to support this artist and her innovative project.
FLY | DROWN is a month-long installation taking place at the Detroit Artists Market which includes a series of performances, workshops and salon talks conceptualized by dance artist Jennifer Harge and curator Taylor Aldridge. The interdisciplinary exhibition will run from September 13th – October 19th, 2019. Fly | Drown platforms the ways in which Black domestic spaces have provided sites for Black womxn to exercise acts of pleasure and self-sovereignty. The exhibition will simulate Harge's grandparents home in Highland Park, MI where they landed after traveling north during the Great Migration. Fly | Drown uses Black migration routes as a point of departure to invoke lineages belonging to Black domestic spaces in the Midwest and gestures toward practices that honor and queer ancestral legacies.
The project is generously funded by the John S. and James L. Knight Foundation, Material Detroit, ARTXDetroit, Queer | Art, and Dance/USA. Fellowships to Artists which is made possible with generous funding from the Doris Duke Charitable Foundation.
EVENT SCHEDULE (All events free and open to the public)
Performances (featuring Jennifer Harge)
Friday, September 13, 7:30 – 9:30 p.m.—RSVP HERE
Friday, September 20, 7:30 – 9:30 p.m.—RSVP HERE
Friday, October 4, 7:30 – 9:30 p.m.—RSVP HERE
Friday, October 11, 7:30 – 9:30 p.m.—RSVP HERE
Friday, October 18, 7:30 – 9:30 p.m.—RSVP HERE
Meals and Salon Talks
Saturday, September 14, 2 -5 p.m., Professor Crystal Michelle Perkins—RSVP HERE
Saturday, September 21, 2 – 5 p.m., Taylor Aldridge and Jennifer Harge—RSVP HERE
Saturday, October 5, 2 – 5 p.m., Marsha Music—RSVP HERE
Saturday, October 12, 2 – 5 p.m., Bree Gant—RSVP HERE
Saturday, October 19, 2 – 4 p.m., Alexis Pauline Gumbs—RSVP HERE
Workshops
Tuesday, October 1, 6 – 7:30 p.m.—"Choreographing Black Space," led by The Gathering Detroit—RSVP HERE
Tuesday, October 8, 6 – 7:30 p.m.—"Otherlogue" led by Bree Gant—RSVP HERE
Tuesday, October 15, 4 – 5:30 p.m.—"Mundane Sonics" with Sterling Toles—RSVP HERE