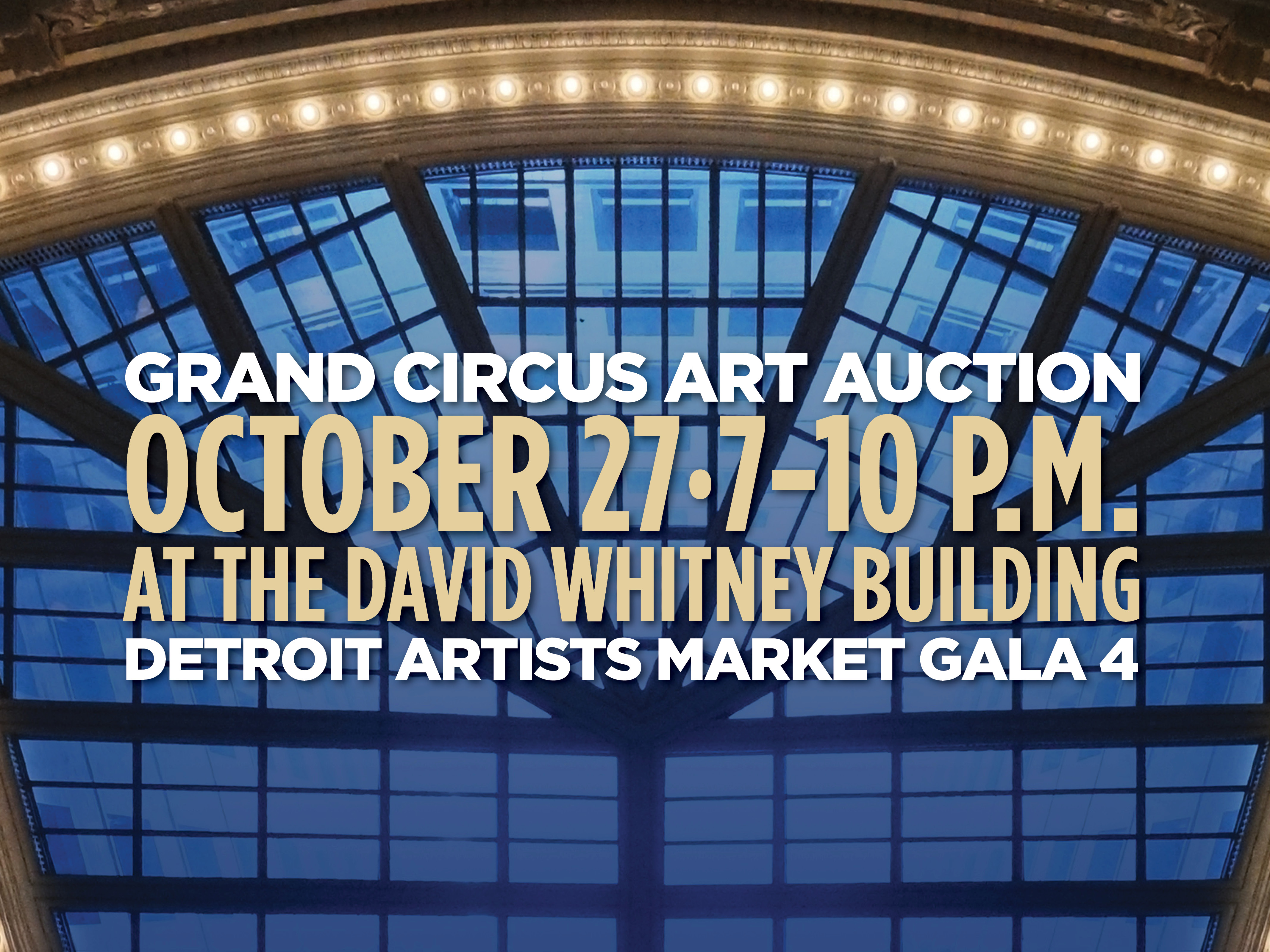 We are happy to announce the Grand Circus Art Auction: DAM Gala 4, the fourth annual fundraiser to support our mission! We greatly appreciate your support for this evolving Detroit Artists Market tradition. We hope that you can join us on Saturday, October 27, 7-10 p.m., at the David Whitney Building in downtown Detroit.
DAM's annual fundraising gala revolves around a special art exhibition that honors our history of supporting artists at different career stages. Ten artists will create original works of art for a one-night exhibition and art auction hosted by the DIA's Vice President of Operations, Elliott Broom. This year's featured artists include Janice Degen, Mel Rosas, Onzie Norman, Feather Chiaverini, Ray Katz, Darin Darby, Adrian Hatfield, Sandra Cardew, and Carole Morisseau. For the second year in a row, DAM has partnered with the Mint Artists Guild, a Detroit nonprofit run by artists and entrepreneurs to benefit young creatives in and near Detroit.The final auction item of the night will be a special work of art from one of Mint's up-and-coming artists, Breonna Yonnie Collins. The evening also includes music, a strolling supper, and a silent auction featuring additional artwork and products from notable Detroit establishments. Live music will be provided by the Royal Garden Trio.
Grand Circus Art Auction takes place on the ground floor of the David Whitney Building, which underwent an amazing $92-million-dollar renovation and re-opened in 2014. Designed in 1915 by Chicago's D.H. Burnham & Co., the 19-story building now houses the boutique Aloft Hotel, which is highlighted by a four-story Grand Rotunda with a show-stopping skylight and golden clock. Please join us for an evening of art, celebration, and honoring Detroit's rich history.
Sponsorship opportunities are available for this event. Sponsors committed before August 31, 2018 will be included on the Grand Circus Art Auction invitations, which are mailed to more than 4,000 DAM supporters and e-mailed to 3,000 addresses. All sponsors will receive event passes and have logo recognition at the event.  If you have questions or need additional information, please contact Matt Fry at 313-832-8540 or mfry@detroitartistsmarket.org.
Individual tickets can be purchased for $100 at the gallery, by phone (313) 832.8540, or at our Eventbrite page. Click the link below to navigate to Eventbrite.
https://www.eventbrite.com/e/grand-circus-art-auction-dam-gala-4-tickets-46416554163
Thank you to our sponsors!
Roger Garrett

E. Eleanor and Michael Marsh

Jean and Joe Hudson

Nancy and Bud Liebler

Kate Baker & Geoff Blumenthal